Yesterday my fellow blogger
little green shed
put a link on Facebook to these beautiful lovebirds
on
Folksy
, by a maker called Kirsty Elson who I didn't know of before but is now a definite favourite! I love the zingy, springy colours and the mix of natural found materials and those gorgeous retro prints.
I really like the addition of the baby bird to the more traditional pair of lovebirds, but here are some birdy couples that I love who haven't made babies yet. One gorgeous print by
Jane Foster
, which I was lucky enough to get for Christmas (thank you F!),
and a lovely 3D pair by Bristol artist/maker Tom Frost, who I stumbled across while trawling the archives of one of my favourite blogs, kickcan and conkers, which never fails to show me things that make me smile!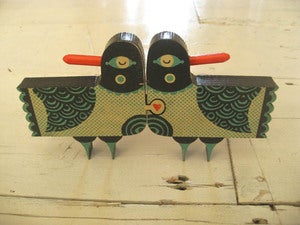 I hadn't come across Tom's work before, but as he's Bristol based I expect he knows at least 20 people that I know, and I wouldn't be at all surprised if it turns out he lives round the corner! I love their handprinted look, and they are now on my ever-growing wishlist. Hmm, we don't normally do much for Valentine's day, but maybe presents are in order this year?!
Hope you're having a lovely day, whatever you're up to!