Helloooo, how are you today? I've had a busy few days, making the most of the weather to get out with F and the boys - hurrah for the sunshine!
We all went to a car boot sale at the weekend, we haven't been for ages because M always gets carried away and we end up bringing a load of plastic tat home. But I fancied a rummage in the sunshine so off we went, and in fact the boys were great, each choosing something small and then getting engrossed with playing with their new toys. Meanwhile I scanned the tables, looking for that elusive treasure...and then....
well, I do like tins, though I usually go for a bolder design, but it's pretty...
the designs around the sides are a bit more my style... R likes the 'funny dancing boy'...
I love the crazy pointy beards...
how much was it? £5 with the contents - I don't usually spend that much on one thing for myself at a boot sale, it doesn't really feel like a bargain price, but I could hardly say no!
Most of the reels are wooden, and apart from their obvious use they are just beautiful objects.
These 3 are proper strong button thread, the blue and brown are linen...
these 3 are the smoothest and shiniest cotton thread I've ever seen...
and this one you don't find in every sewing kit!
I never used to haggle at boot sales but I tend to pick up a little extra something and see if I can get it thrown in...in this case, I think I did quite well...
3 rather gorgeous pairs of knitting needles. I don't really knit - my Grandmother taught me a bit when I was little but I could never remember how to cast on or off! But I'd love to learn properly someday...
I found the background fabric on holiday, in a little vintage shop in St Ives called Beatengreen Boutique (I don't think their website's been updated in a while, but I always like to provide a link where possible). It's a very bright and psychedelic pattern, here's a close-up:
If you like it I'm going to be listing a cushion-cover sized bit of it on Ebay soon, along with a few other favourite bits of fabric; I'll let you have a sneak peek at them soon!
Before I go I must just welcome my newest follower; I had an odd thing happen the other day when 6 followers just disappeared - did I lose them down the back of the sofa?! maybe they didn't like photos of flowers?! - but having the super talented Jane of teawagontales more than makes up for that little mishap! If you've never perused her lovely blog or Etsy shop I recommend it, especially if this applies to you too...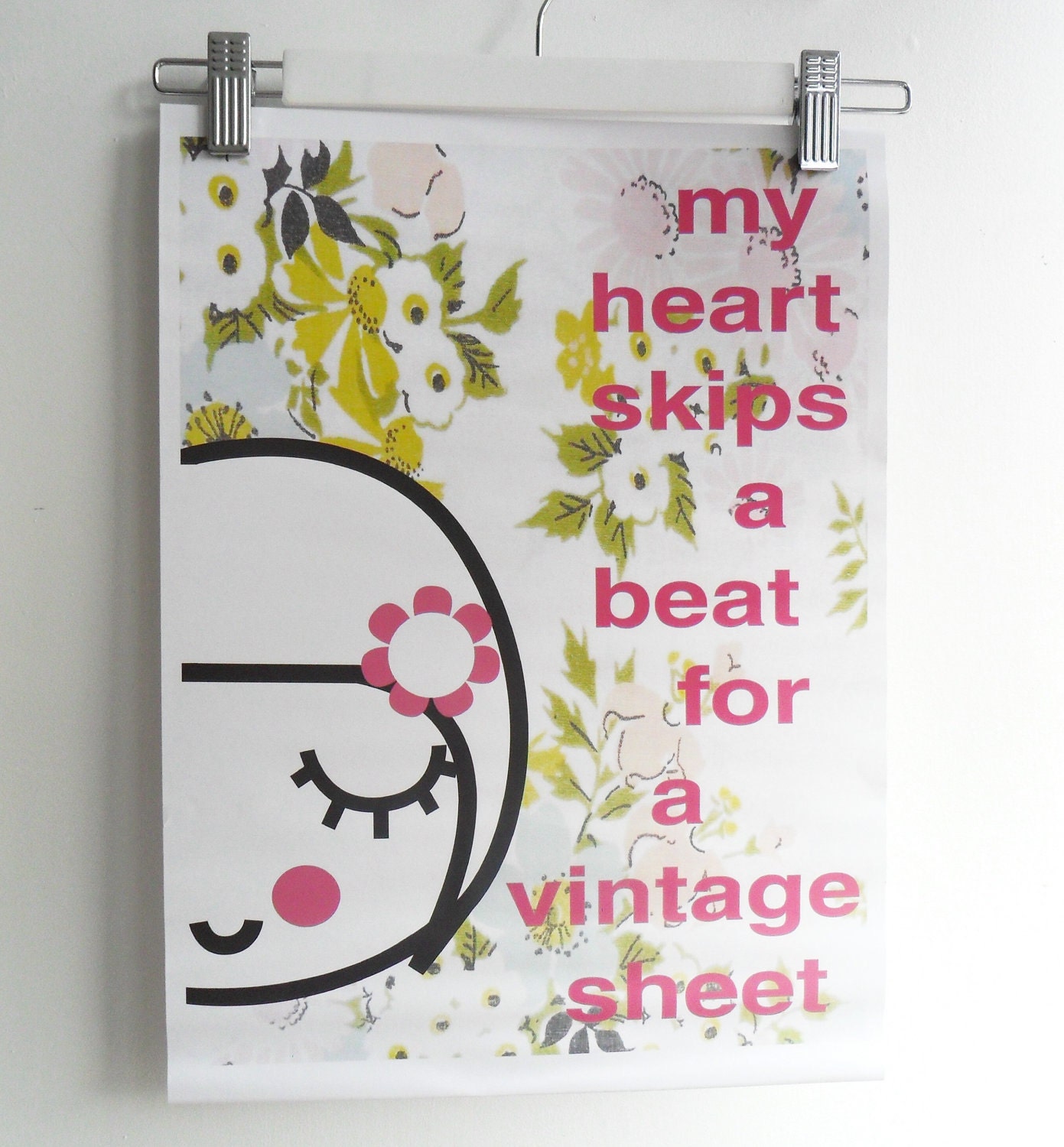 Isn't that just perfect? I so need that somewhere on my wall!
I hope you're enjoying your week ,
Rachel x