Happy sunny day!
It is freezing cold here but bright and clear and spring is in the air. Today I am saying goodbye to grey winter with a look at a few of my favourite black and white treasures from the wonderful world of the interweb, yes I am often all about rainbows but I do love the crispness of black and white. Though as you'll see from 3 of these beauties, it works particularly well with a little bit of colour thrown in too!
First up, a rather lovely cushion from Scandinavian brand Bantie at the ever fabulous Heal's, which not only ticks my black and white box but has birds all over it too! (Slightly bird obsessed of late, more of them another day!)
Yes I know I've got a house full of fabric and I can make my own cushion covers, but that doesn't mean I can't love other people's too!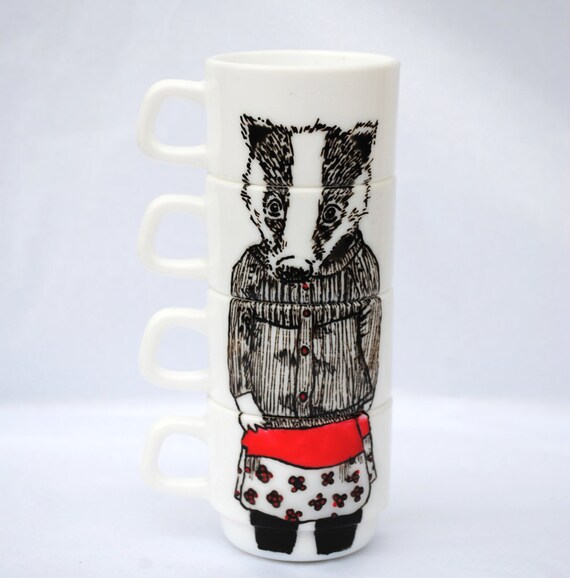 He's got lots of different animals on his mugs, but Miss Badger reminds me of the Frances books by Russell Hoban, which my Mum used to read to me...I think maybe Miss Badger is Frances grown up?!
Here's a pattern I've been lusting after for a while, and it's not a crush that's fading, so one day I might have to give in....
It's from Marimekko at Heal's, a truly iconic brand at a shop to match - some of my favourite fabrics from my collection were from Heals in the 60s, though I've got very little by Marimekko....a lack that I must remedy one day. This design comes in cushion covers, tea towels and oven gloves, so if you're a matchy-matchy kind of person, you can co-ordinate to your heart's content - as long as you've got a bit of cash to spare!
What can I say? I love it. Yellow used to be the one colour I didn't really get on with, but over the last few years it has crept up in my estimation to become a favourite - it doesn't suit my colouring so I can only get away with accessories, but I think it'll be turning up a lot more around my home.
So there we are - a few moments in my day spent in design heaven. Now I'm off to get on with a few mundane but necessary domestic tasks, I hope to be back tomorrow with more eye candy.